Trending Top Rated Solutions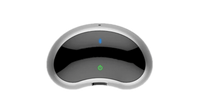 STOP SNORING THE FIRST NIGHT.
Snoring has been associated with weight gain, an increased risk of heart disease, metabolic disease, stroke and many other serious ailments.
Improve your sleep today with our revolutionary Smart Tech Solution.
GET IT TODAY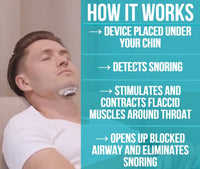 SNORING AND OUR SOLUTION
Snoring is caused by weakened throat muscles collapsing and blocking your airways.
This blockage may range from mild to severe. It may stop you from breathing altogether while asleep. Often resulting in gasping and waking up in the middle of the night.
Our device solves this by sending pulses directly to your flaccid throat muscles, resulting in them tightening, and opening your airways!
Stop snoring the first night!
"Very happy that this actually works. Better then anything Ive ever tried and I like that I can actually see through the app how it actually works. I needed to adjust the stimulation level because it was to strong out of the box for me but now its great"

⭐⭐⭐⭐⭐

Dean S., Hemel Hempstead, UK
"I have been using the device for one month. I am a heavy snorer and the device has worked great! Years ago I was diagnosed with sleep apnea and I could not find a mask I could sleep with so I stopped using CPAP masks and I have suffered for years the effects of not sleeping well. The device fits very comfortably as well even if you sleep on your side or tend to toss and turn. Every day I wake up like a new person now. Its been a life changer. Thank you for this awesome product!"

⭐⭐⭐⭐⭐

Oscar O., New Jersey, USA
"It works! So I've been tracking my stats prior to using this with SnoreLabs app and my snore score dropped by from 130-160 down to 12 and 13 the first two nights! So far I love it."

⭐⭐⭐⭐⭐

Shahrouz H., California, USA
Top Rated Anti-Snore Devices