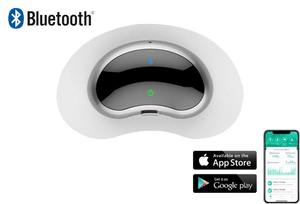 Almost out of stock - order soon.
★★★★☆ 588 | 100,000+ users | ☑ Runs offline
STOP SNORING FROM THE VERY FIRST NIGHT

Imagine finally waking up in the morning without interruption, fully rested, and full of energy.

Introducing the only snoring solution that is comfortable, portable, and effective. Now you can enjoy a snore-less night every night—just by using our small and portable device, SmartSleeper™.

No Mask. No tubes. No hassle.

Just your most restful, deep sleep every single night.
EXPERIENCE INSTANT RELIEF
Stop snoring from the very first night
Portable, silent alternative to CPAP machines
Proven to help you (and your partner!) sleep peacefully through the night
Device has been independently tested and proven safe and effective
Snore and sleep tracker help you adjust your lifestyle to improve your sleep, health, daily energy, and overall happiness!
RESULTS
1000's OF SATISFIED CUSTOMERS
Smart

Sleeper™

device has an extremely high success rate with mild to moderate disruptive snorers. Severe sufferers were pleasantly surprised with impressive improvements to their sleep, focus, and energy levels.
The majority of customers that tried our device reported that they felt it was

life changing

.
HOW DOES IT WORK?
SEE WHAT A TRULY EFFECTIVE SNORING SOLUTION CAN DO FOR YOUR SLEEP
WHO IS IT FOR?
Those that suffer from disruptive snoring
Anyone looking for an alternative to a CPAP
Individuals that move around during sleep and sleep in multiple positions
People that dislike restrictive masks, hoses, and other uncomfortable wearables 
Anyone seeking a portable snoring solution that is perfect for traveling
Those that want to improve their sleep health and lifestyle
 FREQUENTLY ASKED QUESTIONS
 ORDER WORRY-FREE

 
Included in the box:
User Guide
1 SmartSleeper

™

Device
1 Wireless Charging Station
1 USB Charging Cable
10 Magnetic Pads
 WHAT OUR CUSTOMERS ARE SAYING ABOUT OUR SMARTSLEEPER

™

DEVICE
★★★★☆ 588 | 100,000+ users | ☑ Runs offline
"I have been using the device for one month. I am a heavy snorer and the device has worked great! Years ago I was diagnosed with sleep apnea and I could not find a mask I could sleep with so I stopped using CPAP masks and I have suffered for years the effects of not sleeping well. The device fits very comfortably as well even if you sleep on your side or tend to toss and turn. Every day I wake up like a new person now. Its been a life changer. Thank you for this awesome product!"

"I'd say that's an improvement."
- Harvey, USA


"I wasn't getting the results I wanted from my cpap so I tried this. I had to tweek the settings but I found what worked for me. I don't go by what the software tells me how I slept but go by how I feel in the day. My energy levels are better using this device than using my CPAP"

"Amazing anti-snoring product. This one is the only product I have found that balances effectiveness and comfort. CPAP machines work but they are uncomfortable and make noise. The other snoring products either don't work or are uncomfortable too. This device doesn't go in your mouth or nose which seems to be unique to this product so the comfort is just something I haven't found in any other product."
 - Jake, Australia


"Well... it works. Nothing else has worked. This works. Once again I have a happy wife."


"Received my smart anti-snore device last week. It worked to stop my snoring from the first night. I don't use my CPAP machine anymore and glad I found this device."
 -Tim, Canada


"Bought this for my dad, he's a chronic snorer. We all noticed the device has reduced his snoring a lot, and we can finally get a good night's sleep in the next room."
- John, USA


"Bought this after listening to a recording of my snoring. Took a few days to arrive and I tried it that first night. It's small not too obtrusive, a bit of a strange feeling having it on my neck for a couple of nights. But it seems to be working for me. My wife likes it as well. She says it stops my snoring."


"So I've been tracking my stats prior to using this with SnoreLabs app and my snore score dropped by from 130-160 down to 12 and 13 the first two nights! So far I love it."

Disclaimer: The device is unsuitable for people with pacemakers, implantable defibrillators, or any other implanted metal or electronic devices; people with cardiovascular and cerebrovascular problems; people allergic to electrodes and currents; people with skin ulcers on the site of adhesion; pregnant women or those in labor; and children under 16. The product should also not be used on any other part of the body. This device is not a medical device and should not be used to treat or cure any ailments or diseases. Allergy Statement: Pads may contain traces of latex and/or silicone. If you have any known allergies to these components, or show signs of reaction for any reason, do not use or discontinue use immediately.