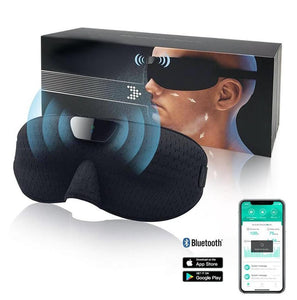 Smart Recognition Technology

With the advanced bone conduction and sound recognition technologies, this Smart Anti-Snore Mask can precisely
identify snoring sounds
and then
deliver gentle vibrations to stop your snoring
with non-perceived physical intervention. Finally a comfortable solution to snoring with its groundbreaking technology.
Personalized Functionality
The Anti-Snoring Device has
36 levels physical intervention
(automatic or controlled). Whether you are a slight snorer or suffer with severe snoring, you will find this helpful. You can
adjust the intensity and sensitivity
of physical intervention within the free app, or activate the snore-stopping delay function (this delays its function until you fall asleep) to personalize the mask. Ergonomic design allows you to comfortably put the mask on and take off easily.
Super Light and Comfortable
It is only 1.35 oz, making it
extremely portable
so that you can take it with you wherever you go. It is made of an
ecological soft high-density sponge
for maximum comfort and fit so you can sleep comfortably and snore-free.
Phone Control and Intelligent Analysis
The 
Smart Anti-Snore Mask
 can be connected to your cellphone via Bluetooth technology, so that you can control the device and set up or adjust working modes with the associated app. Users can also
track their snoring patterns, hear their snoring playback, and analyze overall sleep quality.
Start Sleeping In Comfort and Peace Today!
Daily use of our Smart Anti-Snore Mask will promote better sleep, health, and overall lifestyle.


ORDER WORRY-FREE
Rest Remedies offers fast and free worldwide shipping. Orders are shipped from the USA within 2 business days. We offer expedited shipping for a small additional fee where a worldwide shipped package may reach in destination in as little as a couple business days!
With our included 1 year warranty, you won't have to worry about any issues that may come up with your device. In the rare occasion that an issue comes up, simply contact us, and we'll send you a replacement!