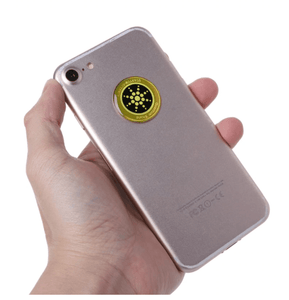 RadiDefend™ was designed to reduce the harmful effects of electromagnetic radiation emitted by data transmitting electronic devices such as Cell Phones, Cordless Phones, Bluetooth Earpieces, Bluetooth headsets, Computers, Laptops, Monitors, Smart TVs, Smart Meters, Wi-Fi Routers, etc.
Use RadiDefend™
to reduce the harmful effects of EMR
Most of the electronic devices we use everyday generate electromagnetic fields that could be harmful to human health. RadiDefend™ was developed to protect its users from the negative effects of electromagnetic radiation. Using patented technology RadiDefend™ reduces the harmful effects of electromagnetic radiation. RadiDefend™ can be used to protect from electromagnetic radiation emitted by devices listed below and more.
01.

 

Cell Phones

02.

 

Cordless Phones

03.

 

Tablets

04.

 

Baby Monitors

05.

 

Routers

06.

 

Laptops / PCs

07.

 

Monitors

08.

 

Bluetooth Headsets

09.

 

Smart TVs

10.

 

Smart Home Wireless Devices
HOW DOES IT WORK?
The topological circuit of RadiDefend™ patented microprocessor's resonator antenna accumulates charges. The electromagnetic impulse generator of a cell phone or other electronic device serves as the source of these charges.
When an excess charge (polarization) has built up, it is automatically redistributed to the RadiDefend™ microprocessor, which uses the charge to cause a coherent transformation of the field in the form of a hologram – made up of regularly alternating maxima and minima. The hologram interacts with external radiation, restructuring and transforming the EMF haze into a more biologically-compatible form, thus reducing the conflict between the external radiation and the radiation from the human body's cells.
BENEFITS
Reduces Harmful Effects Of Electro Magnetic Radiation
Gives You Better, Uninterrupted Deeper Sleep
Reduces Headaches From Cellphone Usage
Reduces Ear Aches From Telephone Calls
Reduces Anxiety Caused By EMR
LIMITED TIME SPECIAL
GET 6 FOR THE PRICE OF 1
For a limited time, we are offering an entire pack of 6 RadiDefend™ devices for the normal price of just 1 RadiDefend™ so that you can use all of your devices safely. Put your new RadiDefend™ on your whole family's cell phones and electronics with this offer!
ORDER WORRY-FREE
Orders are processed within 1 business day. We are a USA based company, so US orders arrive quickest. After your order is processed you should receive your tracking information right away. You can track your order's journey right on our website.
Deliveries take on average 2 - 7 business days.
Available online only!
With our included 1 year warranty, you won't have to worry about any issues that may come up with your device. In the rare occasion that an issue comes up, simply contact us, and we'll send you a replacement!
WHAT CUSTOMERS ARE SAYING ABOUT THE RADIDEFEND

™

 

DEVICE
★★★★☆ 588 | 30,000+ users | ☑ Runs offline