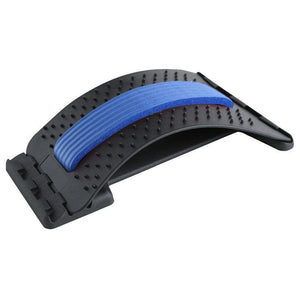 ★★★★☆ 267 | 10,000+ users | ☑ Portable
Only 9 left in stock - Order soon.

STOP BACK PAIN AND POOR POSTURE WITH JUST 10 MINUTES A DAY!

Daily strain, sitting all day, extended computer usage, or physical activities can lead to spine and posture imbalances.

Say goodbye to sciatica pain and poor posture, and discover the ultimate back pain relief tool, with SpineSpring™!

No brace. No straps. No ointments. No hassle.


Just use the SpineSpring™ 10 minutes per day for relief.

HOW DOES IT WORK?

When laying down on the SpineSpring™, gravity allows the front of your body to effortlessly stretch out and upwards, and the surrounding muscles start to relax, gently decompressing the discs in your vertebrae, realigning the spine, relieving tension and pain. You'll be amazed by how good you feel after just one use!

GET IT TODAY, AND SEE WHAT A TRULY EFFECTIVE SOLUTION SPINESPRING

™

CAN BE FOR YOU!

IF YOU ARE NOT COMPLETELY SATISFIED, RETURN IT WITHIN 30 DAYS! (No questions asked!)




 

"Now this by far has to be the best product I have ever ordered online! It has relieved my back pain, sciatica and improved my posture. This is truly a life changing tool!" - Katy (UK)

 

 


EXPERIENCE INSTANT RELIEF

Professionally tested, the SpineSpring™ is able to help relieve tension, treating pain from muscle spasms, pinched nerves, herniated discs, sciatica degeneration, tight knots, excessive flexion and more! Simple to use, light and portable to take and use while travelling. 

 


EFFECTIVE ACUPRESSURE MASSAGE

Our device has 88 plastic pins that brings a powerful acupuncture effect by deeply pressing specific acu-points. These help activate the natural healing response and improve the blood circulation to give you complete back pain relief, spinal pain, muscle pain, etc.

 


DURABLE & LONG LASTING MATERIAL

The SpineSpring™ can withstand weight up to 200kg/450lbs and won't get out of shape even if folded. If it breaks, we'll send you a new one, FREE of charge!

 


ADJUSTABLE STRETCH LEVELS

SpineSpring™ has 3 slots for height adjustment, designed for people of all ages. The higher the back stretcher lifts, the stronger stretch you will get.

 


ERGONOMIC DESIGN

Basing on ergonomics concept, the contour of the lumbar traction device is in standard body curve to provide better spinal alignment and efficient acupressure massage. The foam pad in the center of this lumbar back stretcher gives cushioning to ensure your spinal feel comfortable.

 


MULTI PURPOSE

The lumbar alignment stretcher can be used whenever you are lying or sitting. The back alignment device can be placed on a chair to help correct your sitting posture, or car seat to serve as a lumbar support for car that helps reduce the tiredness especially for long time road drive.
1000's OF SATISFIED CUSTOMERS
SpineSpring™

 has an extremely high success rate with helping relieve back pain and improving posture
The majority of customers that tried our device reported that they felt it was

life changing

.
FEEL WHAT A TRULY EFFECTIVE BACK PAIN AND POSTURE SOLUTION CAN DO FOR YOUR BACK!


 FAQ


The SpineSpring mainly helps with back, hip, neck, shoulder and even head pain. It can alleviate pain caused by Sciatica, Herniated Discs, Bulging Discs, Spinal Stenosis, Scoliosis, Pinched Nerves and more! It stretches your back and naturally decompresses your spine which relaxes your muscles and restores your natural curve.
For the best results, place the SpineSpring on a hard floor and then lay on the device using the preferred level. When you finish a session, do not roll up on it! Instead slide and turn on your side of the stretcher then slowly stand up.
Start with Level 1! You can always go up from there. If this isn't enough, for a more intense stretch, you may lay your legs flat on the ground and bring your arms behind your head, or you can increase the stretch by going up to Levels 2 or 3. Be sure to focus on your breathing and allow your back muscles to relax no matter which level you're on.
For the best results you should lay on it on the ground, with the wider part closer to the bottom of the spine.
The rigidness of the SpineSpring proves it is excellent quality. One way you can slot it onto level 2 is by placing it on the floor, with the wider part towards you, in front of your knees and pushing the upper part into slot 2.
No. The 88 acupuncture pins and grooves are ergonomically designed to be placed on the muscles knots. SpineSpring uses gravity and your own body weight to create the pressure. No electronics, no motors. If you feel tension or pain using it, it proves that your back has been holding that much pressure over the years. Use SpineSpring regularly on a chair while sitting or on the ground, for best results. It will help your back release stress and tension.
Yes, however it is not recommended! Due to the constant pressure that's applied, more than 10 minutes on the same spot is never good. It will affect the muscles too significantly in a short period of time. Moderation is the key!
SpineSpring is designed to relieve back pain, not to treat problems or ailments in the back spines or discs. Treating a symptom is an art. It's like learning how to ride a bicycle. Practice makes perfect. Please do not force your body to change in a short time. Take your time. Be patient and consistent in using SpineSpring.
Yes, absolutely! SpineSpring can be used on any chair with back support, even while driving. You can also use it while sitting in front of the computer to correct your posture. It will give you the very relaxing time by releasing tensions on your back.
Yes, it can be used for any part of the back - it gives you a great feeling. Since the lumbar area is the foundation of the spine, sustaining the upper as well as the lower body together, it can definitely help release upper back pain, helping with poor posture and scoliosis.
It can support up to 150kg or 330lbs. If it breaks, we'll send you a new one, for FREE!
Most customers report feeling significant improvement after only 3-5 days of proper daily use. You should use it for 5-10 minutes a session, with two sessions a day.
 ORDER WORRY-FREE WITH OUR IRONCLAD 

HASSLE-FREE

30 DAY RETURN POLICY AND A 1 FULL YEAR WARRANTY!




SHIPPING

Orders are processed within 1 business day. After your order is processed you should receive your tracking information right away. You can track your order's journey right on our website.

Deliveries take on average 4 - 7 business days.

According to the World Health Organization, the virus does NOT spread through packages. 




Available online only!

 

 WHAT OUR CUSTOMERS ARE SAYING ABOUT OUR SPINESPRING

™

DEVICE
★★★★☆ 267 | 10,000+ users | ☑ Portable
"I got two. One I use at home and one is for when I am driving. It does live up to the expectations in the ad. Customer service is also on point. They have sent me detailed information about its usage via email."

"Fast shipping firstly ! REALLY like this item ,I use it every day in the morning on the 1nd level at 10 mins and in the night on the 2nd level at 5 mins , and feel that my posture is being corrected . You can see the item is truly high quality plastic made and fairly easy to assemble ,Recommended it!"

"It has been delivered to the UK in 8 days, despite the current issues in the world. Thanks you"
 - Casey, UK


"I'm a bit obsessed with clicking joints and have visited chiropractors in the past due to back issues. This is great. A few minutes a day and you feel great. Get the occasional click if I've been working all day too, which provides instant relief!"


"What a wonderful tool. Shipped quickly. No complaints."
 -Pat, USA


"I have noticed that my posture is not so great plus I suffer from back pain. So I've decided to buy this spinal and posture corrector.It really helped with my back problems.And is very comfy to wear.I can recommend to anyone with back problems."


"everything as described, very good."


"Easy to put together, adjustable and a nice stretch 😊 Packaging was meh, rest ok."